Eating Out in Eindhoven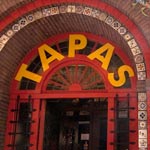 While Dutch cuisine might not be as famous world-wide as Italian or Chinese, the Dutch like a variety of different dishes from all over the world. In central Eindhoven you'll find everything from Japanese sushi to Indonesian fare to Italian pastas to all sorts of quick bites. In short, the best the world has to offer, all in one place! We know you like to eat out, Eindhoven. Here you'll find our guide to some of the choicest cafes and restaurants.
See on Map
Looking for something specific?
Top rated restaurants in Eindhoven