Shopping in Budapest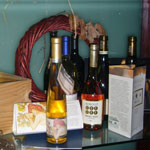 Shopping in Budapest isn't quite the same as in Milan, New York or Berlin, but that's not to say there aren't some great purchases to be made if you're a committed credit card basher. Pest has all the standard retail shops you'd expect to find in a big city, including a number of malls, whilst a stroll around the hilly castle district of Buda reveals a host of porcelain shops perfect for souvenirs. Of course, you could just take the obvious option and bring home a case of superb Hungarian wine. You'll get a decent ratio of grape to forint.
See on Map
Looking for something specific?
Top rated shopping in Budapest