Night on the Goulash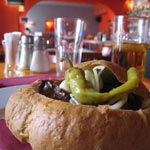 Whereas most Eastern Europe countries are forced to deal with the stereotype that their food consists solely of potatoes and cabbage, Hungary enjoys a rather more enviable reputation for its cuisine. Ever since the famous Gundel restaurant went to the World Fair in New York and wowed the crowds, Maygar cooking has been given the respect it deserves. Of course goulash is Hungary's signature dish but grilled perch is another speciality as is chicken seasoned with red pepper. You'll certainly find plenty of restaurants to choose from in Budapest, whether it's local delicacies you're after or your favourite foreign food.
See on Map
Looking for something specific?
Top rated restaurants in Budapest