Diggin' The Cultural Scene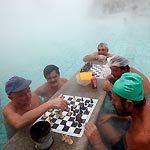 Budapest is not only Hungary's economic and political capital, but it's cultural capital too with a proud history in the arts. In the 19th Century, under the influence of the Austrians, music and opera flourished in particular. Miklos Ybl built the stunning Budapest Opera House, whilst national hero Erkel Ferenc composed Hungary's first operatic works in the Magyar language. Today you can still hear the latter's masterpieces performed under the former's stunning neo-renaissance roof, along with the compositions of Hungary's finest pianist, Franz Liszt. Straying away from opera and classical music, culture vultures will also find a host of museums, theatres and art galleries in the capital, and there's always the small matter of Buda Castle. Find a sprinkling of the very best Budapest has to offer in our culture directory, or check out our events calendar for a round up of the best festivals, concerts and other performances in the coming months.
See on Map
Looking for something specific?
Top rated culture in Budapest