Always Leaves a Taste in Your Mouth...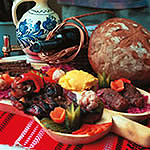 Though not the most adventurous culinary mavericks, Romanians still know how to make some tasty nosh. Though the national custom is to cook at home, here in Bucharest you'll find no dearth of delicious eating options from traditional fare to five-star fusion and everything in between. Traditional Romanian dishes to try include sarmala - meat and rice stuffed cabbage leaves, mici - unspecified fried minced meat served with mustard (best with a beer), mamaliga - a polenta side dish covered in sour cream, and a variety of ciorba, or sour soups, the most popular of which is ciorba de burta made from cow intestines. Pofta buna!
See on Map
Looking for something specific?
Top rated restaurants in Bucharest