Edible Bratislava...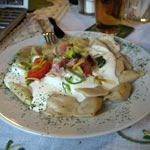 Dollops of dumplings and doom-laden dining rooms were a sobering shock to Westerners brought up with bags of choice. But as it goes, such relics of the pre-1989 world are fast becoming an extinct species. Today's travellers can enjoy the whole gastronomical gamut, from hearty local fodder to fancy fusion flavours. As usual the Old Town remains the main hunting ground for decent restaurants, but you'll also find some intriguing options elsewhere. Indeed, you can even dine in a bona fide flying saucer!
If you'd prefer to skip the restaurants and eat with a local cook at their home, Eataway is now available in Bratislava.
See on Map
Looking for something specific?
Top rated restaurants in Bratislava