Berlin Bars and Pubs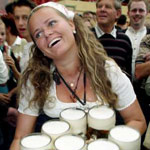 Berlin is an absolute must for the party-goer with bars, pubs and clubs to suit every taste, and some of the most original venues to be found anywhere in the world. The city's famed ability to regenerate means that many a derelict shell has been revamped into the latest hip joint to be seen in. Be warned, Berlin is vast and many of the better places are hidden away - check out our directory and note down a few addresses first, or you could spend more time looking for the bars than drinking in them!
Looking for something specific?
See on Map
Top rated pubs in Berlin